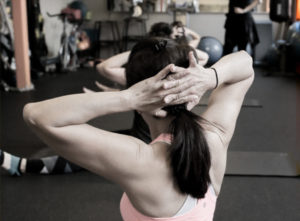 Pilates is a body conditioning routine that helps build flexibility and long, lean muscles, strength and endurance in the legs, abdominals, arms, hips, and back. It puts emphasis on spinal and pelvic alignment, breathing to relieve stress and allow adequate oxygen flow to muscles, developing a strong core or center (tones abdominals while strengthening the back), and improving coordination and balance…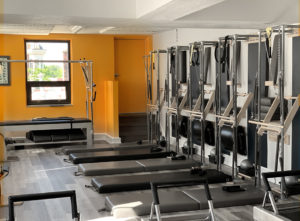 Call the studio or purchase the introductory offer online and request an introductory evaluation. This introductory session with a trainer will give you the full scope of everything we offer and help you decide which classes and sessions will benefit you most! Create a login in our scheduling software (mindbody online). From there you can access your account, book sessions and classes as well as request appointments!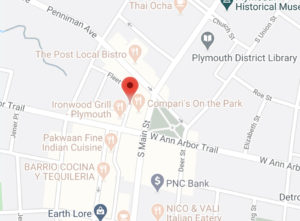 We are located in downtown Plymouth. Our studio shares the back entrance and is just upstairs from Compari's.
INTRODUCTORY OFFERS



try it all | $99
one month to experience (1) private 1:1 session, (2) semi-private sessions and (4)
group classes
unlimited group | $99
one month to experience al l the variety we have to offer in our group classes
3 semi private sessions | $105
3 private sessions | $195
PACKAGES
10 group classes | $195
10 semi-private sessions | $395
10 private sessions | $795
expiration: one year from date of purchase
SINGLE SESSIONS

group class | $30
semi-private | $60
private session| $90
MEMBERSHIPS
elite group member | $145/month
(8) group classes per month @ $18 per class additional classes can be added at $15 semi -privates for $35 and private session for $65
unlimited group | $195/month
unlimited group classes @ $16 per class based on 3x week attendance add-on semi-privates for $35 and private
sessions for $65
unlimited studio | $295/month
unlimited group classes and semi -privates each month (semi -privates may be used for 30 minute private sessions but may not exceed 8 sessions per month) - private one hour sessions may be added at $65/per session
cancellation policy: 24 hour cancellation for private sessions, 6 hour cancellation for group and semi-private sessions. $10 late fee will be assessed for cancellations within these time parameters. memberships: suspend anytime cancel with 30 days notice same household may share elite member pricing. all sales: final but transferable.